You must be a member of both the Point to Point Chapter and the National ANG organization in order to participate in these programs.
Please see the Membership page for information on how to join.
---
Golden Sunflower
"Golden Sunflower" by Handblessings (Eileen Gurak, designer) will be our September program. It is a fun and quick stitch. The 4 3/4" x 4 3/4" design gives you a chance to experiment with different threads or follow the designer's recommendation. Nancy Cucci found this cute project on a trip to Illinois and has agreed to share her helpful hints and thread selections.
The cost for the chart and 8″x8″ canvas is $10. Shipping is $10, or pick up at the meeting.
The deadline to sign up has passed.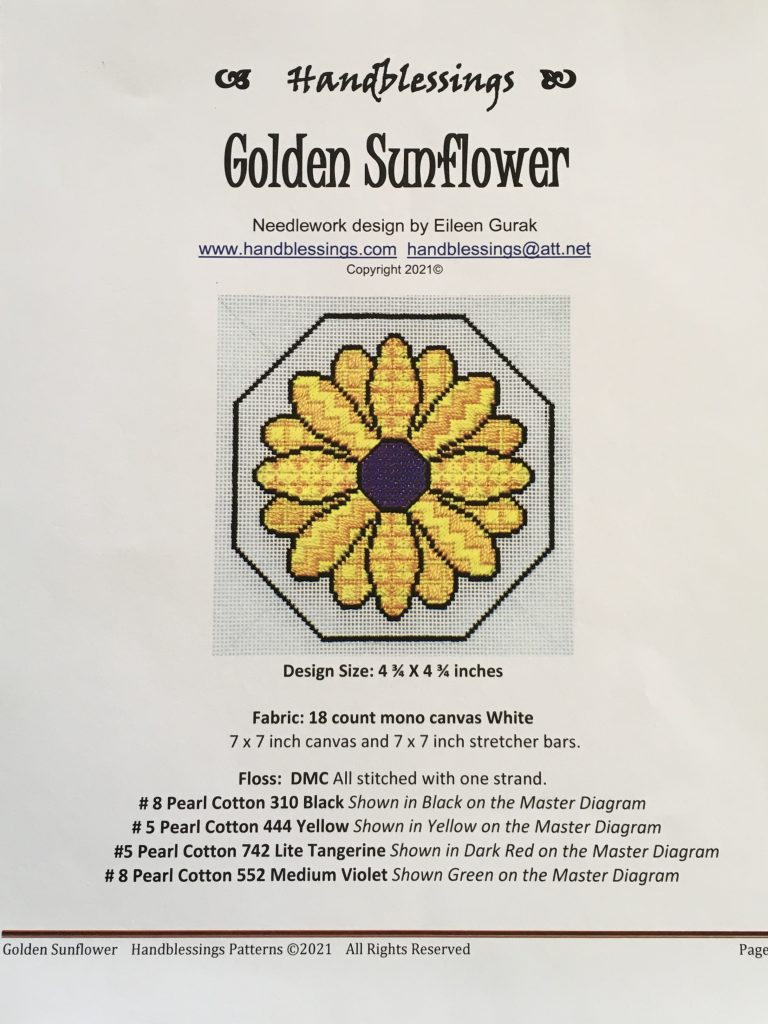 October – "I Want My Mummy" Ornament
Kim Griffin has designed and will teach a delightful Halloween ornament called "I Want My Mummy." This 4 inch design uses pearl cotton and metallic threads with 10 different needlepoint stitches to create a small round Mummy face. Adding button eyes completes the project. It is stitched on 18 count mono canvas and can be finished as an ornament with muslin mummy wrappings on the back.
$28 for Kit (8×8 piece of 18 count canvas, threads, buttons and backing fabric), $10 for instructions only, $10 Shipping.
Deadline to sign up is October 5!
---
Scarlet Poppy
November/December – "Scarlet Poppy" is a companion piece to "Golden Sunflower" (Eileen Gurak, designer) and is the second in a series. The poppy has long been tied to Memorial Day. Start stitching in Nov/Dec and you'll be sure to be finished in time for Memorial Day 2023. The 4 ¾" x 4 ¾" design uses a new set of stitches. The design can be used as a stash-buster or you may follow the designer's thread recommendation.
Cost for the chart and canvas are $10. Shipping is $10.
Signup deadline is October 15.
---
Placeholder
TBD
TBD
Deadline to sign up is TBD.
---