You must be a member of both the Point to Point Chapter and the National ANG organization in order to participate in these programs.
Please see the Membership page for information on how to join.
Note: A possible upcoming program will be a project from the Jan/Feb 2022 issue of "Needlepoint Now" – purchase your copy so you can participate. Program date is TBD.
---
Bargello Needlecase
The Bargello Needlecase is a fun, fast project – no laying of threads required as the project is stitched in pearl cotton.
The price of $10 includes canvas, instructions, and felt for the interior of the case. Members will provide their own pearl cotton. Shipping is $10, but local members will be able to pick up their canvases at the meeting.
---
Baroque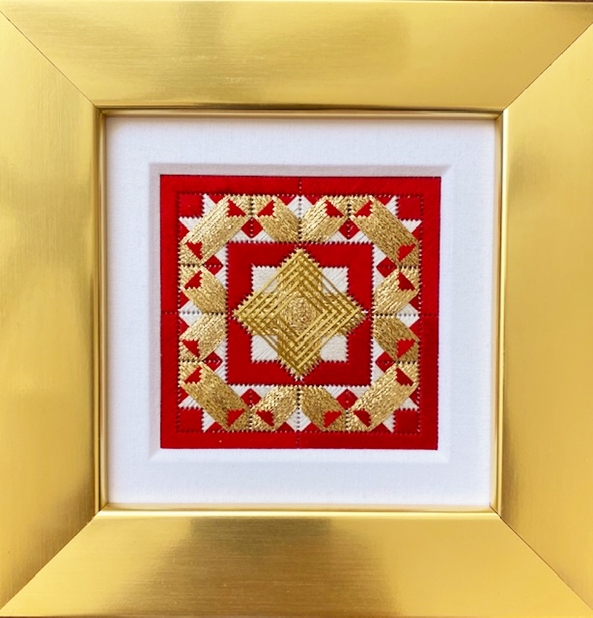 Margaret Bendig is back with Baroque! Baroque is a small counted canvas design of woven and composite stitches with a classic feel. Two colors of silk along with metallic ribbon and fine metallic thread join to form this piece. Members will work with multiple needles to create the woven border composed of 3 different configurations of a woven pattern. The original is stitched with red and white silk with gold threads. Buy your own silk thread in the color of your choosing! Baroque may be framed or used as a small box top. The design is 3 1/4 inch square.
Cost $25. Includes chart and canvas. Shipping $10.
---
Spring Fling
Welcome Spring with Butterfly or Flower banners designed by Nancy Cucci. Nancy will also teach the program at our March meeting. You may choose to stitch one or both of the banners, but will need to pay for each banner you plan to stitch.
The price for one banner is $18 and includes marked canvas and a stitch guide. Get both for $30. Shipping is $12, but local members will be able to pick up their canvases at the meeting.
Stitchers will provide their own threads – there are no beads in the Butterfly Banner and only 68 beads in the Flower Banner (or replace with French Knots?). Many of the threads in the original banners are no longer available – now is the time to check your stash or make new, innovative choices for thread substitutions. Below you will find a "formula" to help you in your choices.
Flower Banner Formula
Green Metallic (#12 Kreinik or Fyre Werks Soft Sheen?)
Family of 4 greens: very light, light, medium, and dark
Family of 4 for flowers: light, medium light, medium dark, and dark.
Optional white for flower petals in top square.
Beads to match middle of flower family
Note: for added texture, use #5 pearl cotton for medium light and medium dark values of flower family.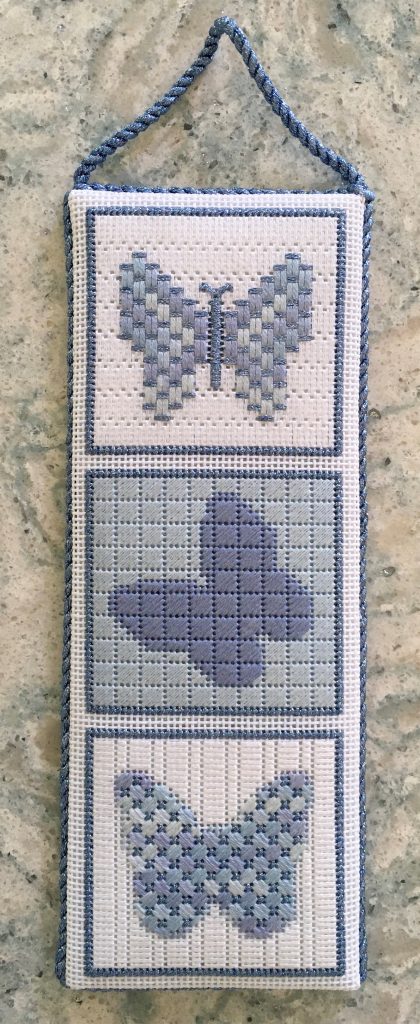 Butterfly Banner Formula
Metallic — sample: Fyre Werks Soft Sheen FT39 Lite Blue
Over-dyed floss or silk — sample: ThreadWorx 1015 Ice Blue
Floss or silk to match — sample: Anchor floss A1 Snow White, A117 Thistle Light, A128 Cobalt Blue Light
---
---
Have Broom, Will Travel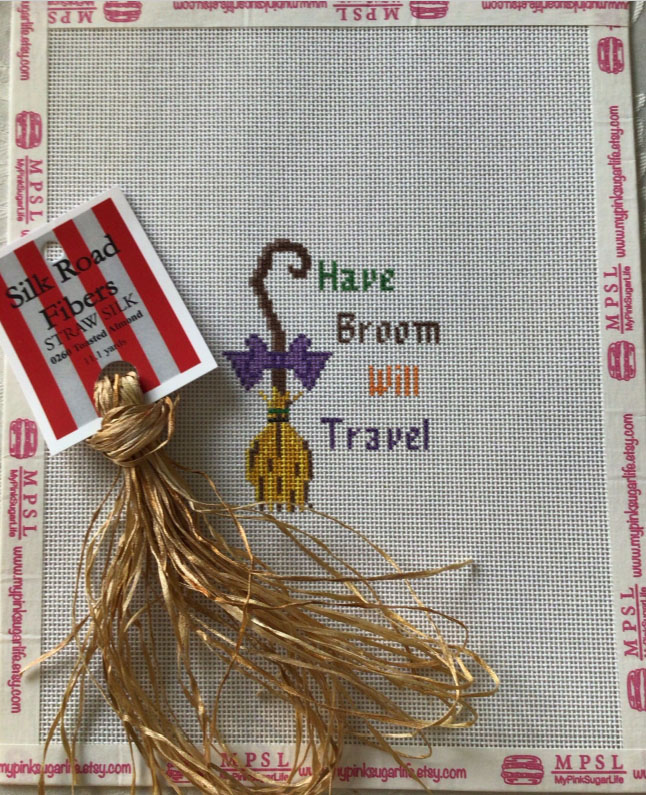 This fun and sassy canvas will be our October meeting.
The price of $50 includes canvas, instructions, and a specialty thread (remainder of threads from your stash). Shipping is $10, but local members will be able to pick up their canvases at the October meeting.
The deadline for signing up was September 22.
---