You MUST be a member of both the Point to Point Chapter and the National ANG organization in order to participate in these programs.
Please see the Membership page for information on how to join.
A planned program for the first half of 2023 will come from the Nov/Dec 2022 issue of Needlepoint Now. See the bottom of this page for more information.
---
Scarlet Poppy
November/December – "Scarlet Poppy" is a companion piece to "Golden Sunflower" (Eileen Gurak, designer) and is the second in a series. The poppy has long been tied to Memorial Day. Start stitching in Nov/Dec and you'll be sure to be finished in time for Memorial Day 2023. The 4 ¾" x 4 ¾" design uses a new set of stitches. The design can be used as a stash-buster or you may follow the designer's thread recommendation.
Cost for the chart and canvas are $10. Shipping is $10.
Signup deadline is October 15. (Deadline has passed, but contact Program Chair as extras may be available)
---
2023 Programs
October Treats
January through September of 2023
"October Treats" is a collection of bright colors that gets us in the mood for fall and the fun of Halloween. This P2P year long project, designed and taught by Nancy Cucci, includes a wide variety of decorative needlepoint stitches and techniques. The bold prints, patterns, and textures are accented with seed and Delica beads. We're in for a treat, or MANY treats!
Nancy will provide us with the kits and initial instructions at the January meeting. She will teach four more sessions throughout the year and we'll receive the instructions for the new sampler rows as they are taught (at the meeting or as a separate mailing).
The final session will be the September 2023 meeting. The kit includes 24-ct white Congress cloth, Kreiniks, solid and over-dyed Cotton Floss, seed and Delica beads, tapestry and beading needles, instructions with color photo.
Cost: $110 complete kit; $25 shipping (shipping cost includes 5 mailings)
The deadline to sign up is November 30th. Sign Up form below picture.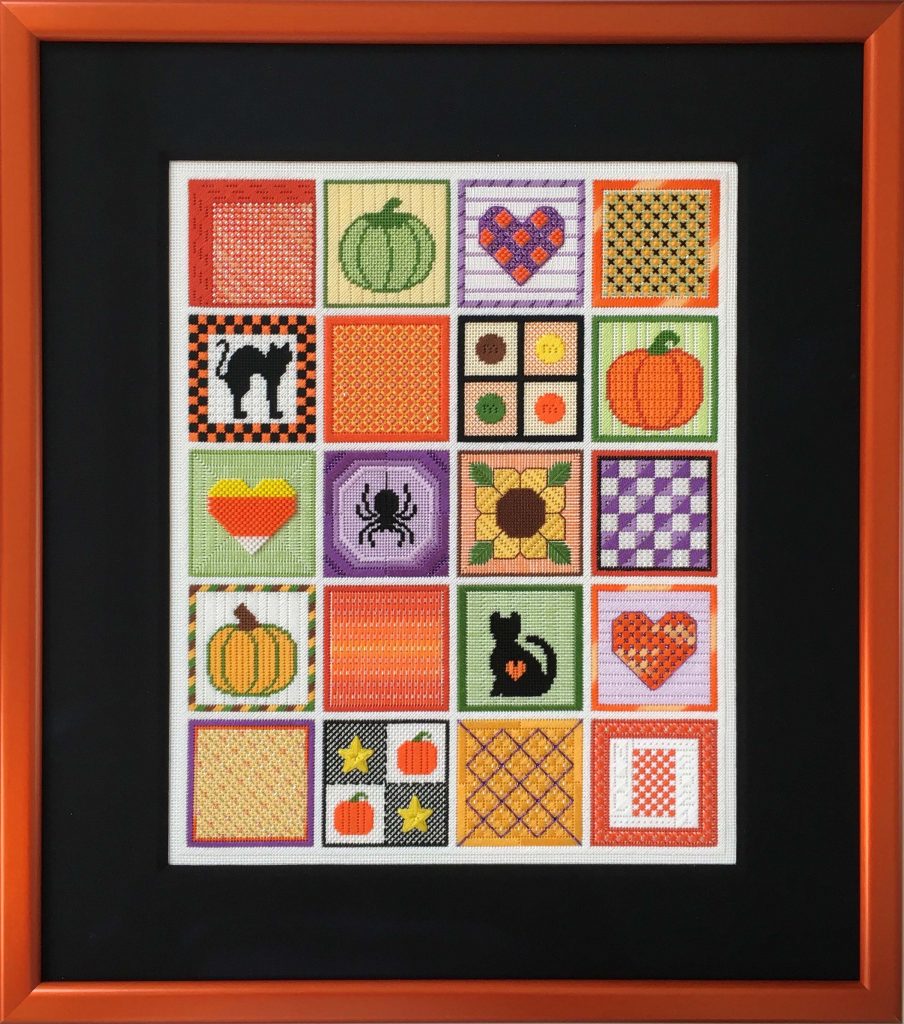 ---
February – Ornament and Book Discussion – Timmy Shultz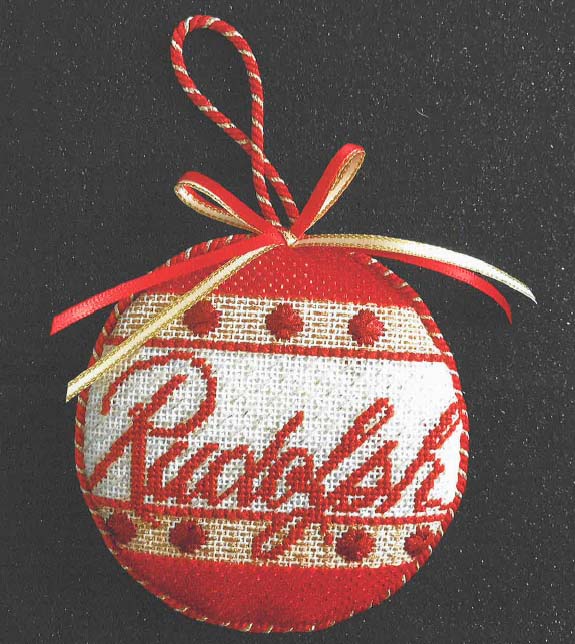 February will be a two part program. Timmy Shultz will provide instruction for her "Rudolph the Reindeer" ornament. Additionally, there will be a discussion with Timmy about the book she has recently published. Deadline to sign up Jan. 31, 2023.
$95 will include a partial painted Rudolph canvas, threads and fibers and instructions/charting for remaining design.
Deadline to sign up is Jan. 31, 2023.
---
Planned for the first half of 2023 is the cute mitten, "Frosty Morning," found in the November/December issue of Needlepoint Now on Page 22. See the links below for more information on how you can purchase your copy of the magazine so you can participate in the program.
---
Placeholder
TBD
TBD
---
Deadline to sign up is TBD.