You must be a member of both the Point to Point Chapter and the National ANG organization in order to participate in these programs.
Please see the Membership page for information on how to join.
---
Show and Tell/Birthday
It's Point to Point's Birthday! Join in the Zoom meeting to celebrate our 35 years as a Chapter of the American Needlepoint Guild (ANG). We'll also be inducting our new board. Afterwards, we'll have a show and tell – share your recent completions with the Chapter or those projects you're particularly fond of.
---
December Dazzle – Designed and Taught by Nancy Cucci
Kits were passed out to in person participants of the September meeting where Part 1 was discussed. Part 2 was discussed at the October general meeting, and Part 3 at the January Zoom meeting. The final session will be presented at the May General Meeting.
Everyone should have received the instructions for Parts 1, 2, 3 and 4. Instructions for Part 5 will be mailed prior to the May General Meeting.
---
Firecracker! – Canvas by Kam
The project is a painted firecracker canvas by "Kam" – we'll be taught a new shading technique to try on our completely stitched piece.
The cost is $35 for canvas and instructions. Another $10 is required if you wish your canvas to be mailed to you. There will be pick-up of the canvases available in San Pedro and Huntington Beach.
Note: Sign Up deadline has passed.
---
July – Dark
August – Dark
---
Laurie's Heart
September 2021
November 2021
"Laurie's Heart" is designed and taught by Nancy Cucci (in honor of former member, Laurie McCellan). The heart is stitched on 9″ x 9″ canvas in pink or blue threads, with iridescent beads and a central crystal. The cost is $50 for instructions, canvas, and beads. Shipping is $12, but we hope to be meeting in person for the September meeting where local members will be able to pick up their pieces in person.
The deadline for signing up is August 1.
---
Have Broom, Will Travel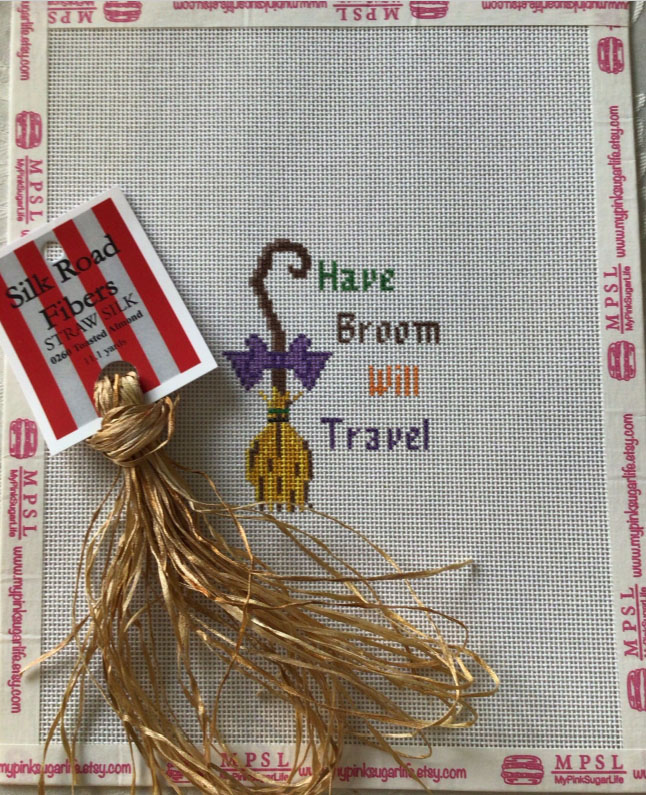 This fun and sassy canvas will be our October meeting.
The price of $50 includes canvas, instructions, and a specialty thread (remainder of threads from your stash). Shipping is $10, but local members will be able to pick up their canvases at the October meeting.
The deadline for signing up will be September 22.